Equipe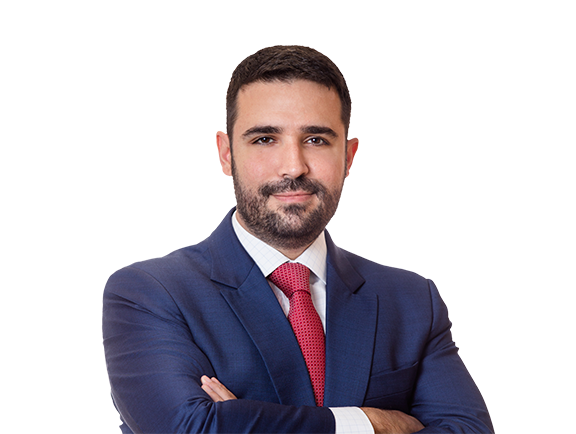 Luiz Augusto Osorio
Partner
losorio@cmalaw.com
Rio de Janeiro
T +55 21 3262 3047
Rua Lauro Müller, 116 – 25th floor Condomínio do Edifício Rio Sul Center Botafogo – Rio Janeiro, RJ – Brazil - 22.290-906
#corporate #M&A #privateequity #venturecapital #commercialcontracts #capitalmarkets
Luiz Augusto Osorio is a partner in Campos Mello Advogados' Corporate and Contracts practices, based in Rio de Janeiro. He practices in the areas of corporate, securities, mergers and acquisitions, private equity, venture capital and contracts, providing assistance to clients in many different matters, such as planning and structuring business transactions and corporate activities, including incorporation of companies; corporate reorganizations and restructuring; assembly of joint ventures, consortiums, associations, foundations, partnerships and other methods of organizing businesses, activities and enterprises; as well as in contracts in general.
Luiz Augusto's practice also encompasses counseling clients in the acquisition and disposition of corporate shareholdings or assets; executing due diligence procedures, divestitures, mergers and acquisitions,; as well as assisting in the acquisition or transfer of ownership of equity interests, minority shareholdings and the legal structuring of companies, public listed or not, and public offerings of securities. He offers legal advice in all investment operations.
Among his clients are Brazilian and international companies in many industry sectors, such as financial and banking service, hospitality and leisure, industrial goods and services, infrastructure, insurance, health, real estate and technology. Luiz started his career in 2003, as a trainee at Demarest & Almeida Advogados, working in real estate and litigation. He joined Campos Mello Advogados' corporate team in 2005.
Representative Matters
• Advising Ager Incorporações Imobiliárias, a Brazilian developer company based in Rio de Janeiro, in a R$ 500 million joint venture with global real estate investment firm GTIS Partners in order to perform real estate developments in Brazil.
• Advising Brazilian transportation and logistics Fink Group on acquiring a US$200 million equity stake (60%) in Santos Brasil, the company that manages the largest and busiest container port in Latin America.
• Advising Brazilian real estate developer Brookfield on the acquisition of real estate developer MB Engenharia.
• Advising Brazilian beverage company Cervejaria Devassa on the sale of its controlling shares to Schincariol Group, one of the major breweries in Brazil.
• Advised a Brazilian company indirectly controlled by NUVASIVE, INC. (NASDAQ: NUVA), a leading medical device company (#3 player in the $9 billion global spine market) focused on transforming spine surgery with minimally disruptive, procedurally-integrated solutions.,in the acquisition of 100% per cent equity stake of Mega Surgical shares by Neblina Distribuição de Produtos Médicos Ltda.
• Advising major Brazilian construction company João Fortes Engenharia on acquiring, developing and selling Bangu Shopping, in Rio de Janeiro, to Aliansce Shopping Centers, a Brazilian joint venture between Iguatemi Nacional and General Growth Properties.
• Advising administrator Rio Bravo Investimentos in the management of real estate investment fund 'Via Parque Shopping', which encompasses 100% of a shopping center with 237 stores located in Rio de Janeiro, Brazil.
• Advising SoftBank a leading internet-based and telecommunication carrier, in the private equity transaction in the Brazilian largest urban mobility startup and ridesharing company, 99 Taxis, in the amount of US$100million, as of May 2017.
• Advising Groupon Inc., the largest local e-commerce platform in the world, on the sale, as of March 2017, of its Brazilian operation (Groupon Serviços Digitais Ltda.), to Nazca Needish Asset Holding II LLC, which is part of the Chilean investment group Mountain Nazca, specialized in venture capital investments in information technology software and services, among others.
• Assisting global information technology, consulting and outsourcing Indian company Wipro Ltd with all legal aspects related to the acquisition of InfoServer S.A., a specialized IT services provider for banking, financial services and insurance sector in Brazil, including due diligence, antitrust demands, negotiating and drafting transaction agreements.
• Assisting Angra Partners Gestão de Recursos S.A., one of the leading Private Equity firms in Brazil, with its corporate obligations, investments/divestures and day to day activities in relation to its portfolio companies.
• Assisting the Marsh Group in its global corporate reorganization.
• Assistance to the listed company OSX Brasil S.A. with an internal reorganization aiming its judicial recovery and renegotiation of all of its agreements with goods and services providers in coordination and interaction with Alvarez & Marsal.
Publications
• Co-author, "Investing in Brazil", The Private Equity Review, 2015 and 2016.
Professional Memberships
• Brazilian Bar Association (OAB), Rio de Janeiro and São Paulo Chapters
Education
Specialization in Accountancy, Fundação Getulio Vargas (FGV), 2009
Post-Graduation in Property and Private Law, Pontifícia Universidade Católica do Rio de Janeiro (PUC-Rio), 2008
B.A. in Law, Pontifícia Universidade Católica do Rio de Janeiro (PUC-Rio), 2005
Admissions
Rio de Janeiro
São Paulo