Equipe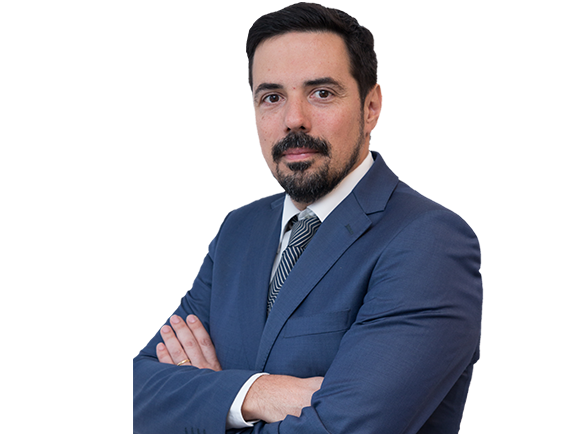 Roberto Vianna do R. Barros
Partner
rbarros@cmalaw.com
São Paulo
T +55 11 3077 3513
Av. Pres. Juscelino Kubitschek, 360 – 10th floor Vila Nova Conceição – São Paulo, SP – Brazil 04543-000
#banking #finance #infrastructure #capitalmarkets #projectfinancing
Roberto Vianna do R. Barros is a partner in Campos Mello Advogados' Banking and Project Finance practice, based in São Paulo. He has an extensive practice in corporate, capital markets, project finance and banking, representing a wide variety of investment and commercial banks, as well as Brazilian and international companies mainly in the industrial goods and services and infrastructure industry sectors.
Roberto provides assistance with project and structured finance, assets securitization and related matters in Brazil; equity and debt offerings of Brazilian private and governmental issuers, both domestic and offshore; Brazilian banking regulation, especially regulatory aspects of foreign bank activities in Brazil and bank derivatives activities; and M&A and related corporate transactions in Brazil.
Recent editions of Chambers Global and Chambers Latin America recognized Roberto as a leading individual in Banking & Finance as well as in Capital Markets, being noted by clients as "among the most talented lawyers active in Brazil" and "very pleasant to work with and excellent on the technical side."
Roberto began his career in 1993 as a law clerk at Pinheiro Neto Advogados. In 1997, he joined Demarest e Almeida Advogados as an associate, staying there until 2000, when he joined Linklaters as an associate. Before joining Campos Mello Advogados, in 2010, Roberto was a partner at Lefosse Advogados in cooperation with Linklaters. 
Representative Matters
• Representing Banco Santander in the assignment of several non-performing loan (NPL) portfolios with a total face value of almost R$10 billion.
• Representing the mandated lead arrangers, primarily JPMorgan, Lehman Brothers, HVB and Aozora, on the ¥185 billion (approx. US$1.8 billion) Senior, Senior Mezzanine and Junior Mezzanine facilities supporting leading private equity group Permira's ¥250 billion (approx. US$2.4 billion) acquisition of Arysta LifeScience from Olympus Capital.
• Advising Spanish financing company Compañía Española de Financiación del Desarrollo (COFIDES) on entering into a €6 million financing agreement with ULMA Brasil Fôrmas e Escoramentos, Brazilian subsidiary of Spanish ULMA Construcción, one of the world's major manufacturers of formwork and scaffolding systems.
• Representing US investment fund Meserole on a US$11.4 million project financing and development of a Brazilian company's ore extraction activities in the state of Mato Grosso, in Brazil.
• Representing Aircom International América Latina in a £18.3 million facilities agreement entered by with Barclays Bank.
• Advising commodities trading company Noble Group's Usina Noroeste Paulista, located in the state of São Paulo, Brazil, on the US$70 million export prepayment financing transaction arranged by ABN AMRO Bank and ING Bank.
• Representing IRB-Brasil Resseguros in a US$50 million standby letter of credit facility with HSBC Bank USA.
• Representing the Export-Import Bank of China in a US$270 million credit facility to State Grid Brazil Holding, Brazilian subsidiary of Chinese energy company State Grid.
• Representing German private commercial bank group Bayerische Hypo- Und Vereinsbank AG (HVB) on the execution and delivery of a €176.5 million Senior Facility Agreement, €23.7 million Mezzanine Facility Agreement and the Intercreditor Agreement, entered into by and among HVB, TFL Holding GmbH and certain of its subsidiaries. The work rendered also encompassed the execution and delivery of the security documents to secure full and timely payment and performance of the obligations under such facility agreements.
• Representing Rabobank International Paris in a €40 million credit facility to Tereos Internacional, Brazilian subsidiary of the Tereos Group, dedicated to sugarcane and cereal processing activities.
RECOGNITIONS
• Leading individual in Banking & Finance
Chambers Global: 2012, 2013, 2014, 2015, 2016 and 2019
Chambers Latin America: 2009, 2012, 2013, 2014, 2015, 2016, 2017, 2018, 2019, 2020 and 2021
IFLR 1000: 2013, 2014, 2015, 2016, 2017, 2018 and 2019
Who's Who Legal Brazil: 2013, 2014, 2015 and 2016
The Legal 500: 2014, 2015, 2016 and 2018 – Recommended Lawyer
LACCA: 2019 – Recommended Lawyer
• One of the most admired Brazilian lawyers in Banking
Análise Advocacia 500: 2016
• Leading individual in Capital Markets
Chambers Global: 2011, 2014 and 2015
Chambers Latin America: 2010, 2014 and 2015
IFLR 1000: 2013, 2014, 2015, 2016, 2017, 2018 and 2019
The Legal 500: 2014, 2015 and 2016 – Recommended Lawyer
• Leading individual in M&A
Chambers Latin America: 2013
IFLR 1000: 2013, 2014, 2015, 2016, 2017, 2018 and 2019
• Leading individual in Project Finance
IFLR 1000 2016, 2018 and 2019
• Deal of the year in Corporate Finance's category for the legal assistance provided to the Pension Fund of the State of Rio de Janeiro – RioPrevidência in the Oil Royalty Securitization operation, valued 2 billion dollar – Latin Lawyer 2014
• Leading individual in Banking & Finance
Chambers Global: 2017 and 2018
Who's Who Legal Brazil: 2017
Publications
• "An Overview of the Brazilian Regulations for Hybrid Instruments and Subordinated Debt," The Euromoney Hybrid Capital Handbook, 2007/08
Speeches and Seminars
• Part-time professor of Derivatives, LL.M course, Instituto de Ensino e Pesquisa (Insper), São Paulo
• Speaker, "Financiamento de Arenas: Novas Oportunidades " ("Arena Financing: New Opportunities"), Footecon 2009, Rio de Janeiro, December 2009
Professional Memberships
• Brazilian Bar Association (OAB), São Paulo and Rio de Janeiro Chapters
Education
LL.M., University of Paris, 1997
B.A. in Law, Direito pela Universidade de São Paulo (USP), 1994
Admissions
Rio de Janeiro
São Paulo