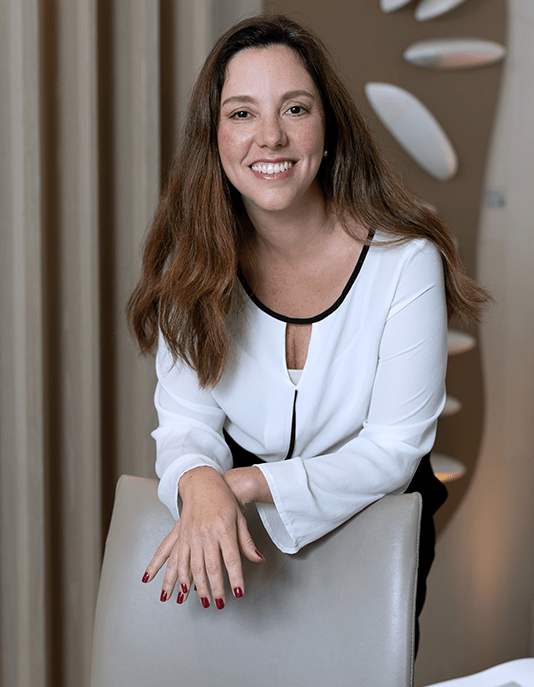 "CMA manages to bring together several values that I consider key, such as the search for excellence in client services and an extremely welcoming office environment that is truly concerned with people, with our employees. That makes our firm a unique place both for its members and for its clients."
Maria Eduarda Bérgamo
Partner
Legal Practice Areas
Real Estate
Maria Eduarda Bérgamo is a partner in Campos Mello Advogados in cooperation with DLA Piper of the Real Estate practice, based in São Paulo.
Maria Eduarda is a highly specialized real estate lawyer, based in São Paulo. She has extensive experience in real estate transactions, with particular focus on purchase and sale deals of logistic and commercial real estate properties, on operations involving transfer of equity interests in various real estate companies, negotiations involving foreign governments, related to diplomatic properties – and on other complex real estate agreements – such as long-term lease agreements for the use of areas dedicated to co-working spaces and built-to-suit agreements. She also has large experience in structuring complex deals involving rural real estate properties in Brazil.
Before joining CMA, she has worked at BMA Advogados for more than 10 years and served as in-house counsel at Brookfield Shopping Center for roughly 3 years.
Maria Eduarda Bérgamo is a member of the Brazilian Bar Association and of the Shopping Center Commission of IBRADIM, the Brazilian Institute of Real Estate Law.
Recognitions
Recognized as "Rising Star" by The Legal 500: 2019 and 2020
Excellence and Relationship
Campos Mello Advogados was the first full-service Brazilian law firm to consistently use the NPS (Net Promoter Score) method. In the first year using the method, the firm achieved grade 83.
Professional Memberships
Brazilian Bar Association (OAB), Rio de Janeiro Chapter
Education
B.A. in Law, Pontifícia Universidade Católica do Rio de Janeiro (PUC/RIO), 2004.
Languages
Portuguese
English